Welcome to Wines from the Mill, our family run vineyard and winery.
Please take some time to browse through the site and discover our hand crafted wines and historic water mill.
Set in the breathtaking southern slopes of the Small Carpathians, our enchanting vineyard and historic 16th Century Mill make the perfect backdrop to sample our artisan viniculture.
Doľany makes an ideal starting point for exploring the fascinating six main regions of Slovakian wine production, and for venturing further afield to South Moravia and Austria.
Aside from making and selling wines from our historical 16th Century Water Mill, we organise and offer a diverse range of complimentary activities, including:
Wine tasting sessions with carefully matched local foods and a guided tour of our operation,
"Feasting in the Mill," an extended wine tasting, followed by a rich feast of regional specialties,
and many other events for our visitors.
We are more than happy to arrange accommodation for you at the delightful Pension Ompital, which is about four minutes walking distance from the Mill.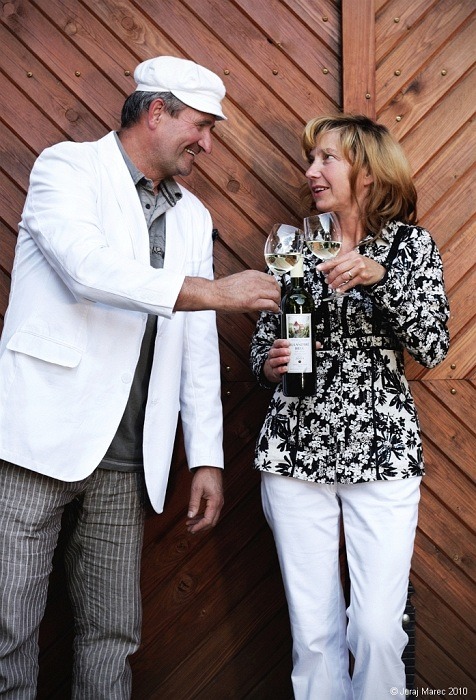 If you would like to visit us, feel free to get in touch. We speak English, French and German. We hope to welcome you very soon!

Our philosophy of growing grapes and wine production
Winemaking in our family began during the second half of the18th century, when our ancestors planted the very first vines in Dolany. We moved production to the Mill in 2002, since then we have been progressively restoring and enhancing the building.
We are turning it into a modern facility, whilst carefully maintaining its unique character and traditional wine making charms. This is how our brand, WINES FROM MILLS® came into being. We have been a member of the Association of Small Carpathian Wine Route since 2006.
We currently cultivate approximately three hectares of vineyards, with the average age of our vines around 40 years old. We grow grapes typical of our region, such as Grüner Veltliner, Pinot Blanc, Silvaner, Welschriesling, Irsai Oliver and St. Laurent.
While embracing technology where it benefits the flavour of the wine, we care lovingly for our vines by hand and favour traditional methods of production over mechanisation. This is the reason our wines are so unique, and carry the exuberant characteristic flavours of the terroir of Doľany.